In March, I managed to play 23 games of 19 different titles, 10 of which were new to me. The new games were: Eldritch Horror, Bang: The Dice Game, Amber, Auf Teufel komm raus, Council of Verona, CV, Fleet, Potato Man, Nox and Glass Road.
I added 12 new games to the collection which were Eldritch Horror, Habe Fertig, Potato Man, Nox, Abluxxen, Dungeon of Mandom, Kobayakawa, Wurfel Bingo, Qwixx: Das Kartenspiel, Zooloretto Mini, Glass Road and Splendor.  My unplayed list has crept up to 31, something I need to reduce during April, and Game of the Month was the excellent re-imagining of Arkham Horror: Eldritch Horror which has a great story to it and can be played in a pretty reasonable time. Our first three player session ended in failure but we all thoroughly enjoyed the experience.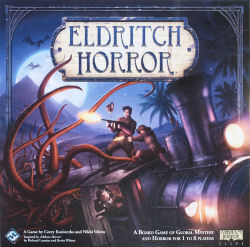 Comments »
The URI to TrackBack this entry is: http://www.spiel.co.uk/wordpress/wp-trackback.php?p=614
No comments yet.
RSS feed for comments on this post.
Leave a comment
Line and paragraph breaks automatic, e-mail address never displayed, HTML allowed: <a href="" title=""> <abbr title=""> <acronym title=""> <b> <blockquote cite=""> <code> <em> <i> <strike> <strong>