February saw me play 19 games of 18 different titles, 12 of which were new to me. The new games were: Shephy, Candy Chaser, Caverna: The Cave Farmers, Famous Fairways, Famous Fastballs, The Great Heartland Hauling Co, Greedy Kingdoms, Khmer, Palmyra, Trains & Stations, TransEuropa and Machi Koro.
I sold 45 games and added 7 new games to the collection which were Bang: The Dice Game, Khmer, Greedy Kingdoms, Famous Fairways, Famous Fastballs, Council of Verona and Age of Industry. The only game I played more than once this month was Shephy and that was only twice. My unplayed list has dropped from 32 to 30 and Game of the Month didn't appear until the very last day of February when I played the absolutely fabulous Machi Koro. When this comes out in an English edition, it is going to be an instant purchase.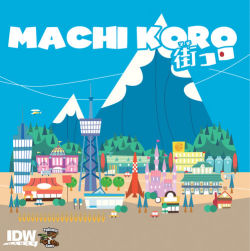 Comments »
The URI to TrackBack this entry is: http://www.spiel.co.uk/wordpress/wp-trackback.php?p=611
No comments yet.
RSS feed for comments on this post.
Leave a comment
Line and paragraph breaks automatic, e-mail address never displayed, HTML allowed: <a href="" title=""> <abbr title=""> <acronym title=""> <b> <blockquote cite=""> <code> <em> <i> <strike> <strong>