I spotted a copy of Dungeons & Dragons: The Legend of Drizzt for sale on Amazon for £32 the other day so decided to snap it up. Hopefully, it'll be here by Friday so we might be able to give it a try… provided Nige doesn't complain too much about yet another co-operative game. This one takes up to 5 players and plays in around an hour.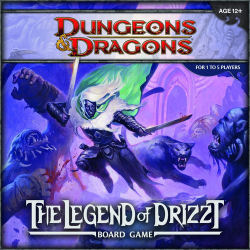 Comments »
The URI to TrackBack this entry is: http://www.spiel.co.uk/wordpress/wp-trackback.php?p=492
No comments yet.
RSS feed for comments on this post.
Leave a comment
Line and paragraph breaks automatic, e-mail address never displayed, HTML allowed: <a href="" title=""> <abbr title=""> <acronym title=""> <b> <blockquote cite=""> <code> <em> <i> <strike> <strong>